The ideal situation for any business that uses online marketing as a part of its customer acquisition strategy would be to have every single website visitor either buy their offering or book a sales call. Though ideal, this is never the situation.
Research shows that only 3% of website visitors are in buying mode at the first interaction with a website.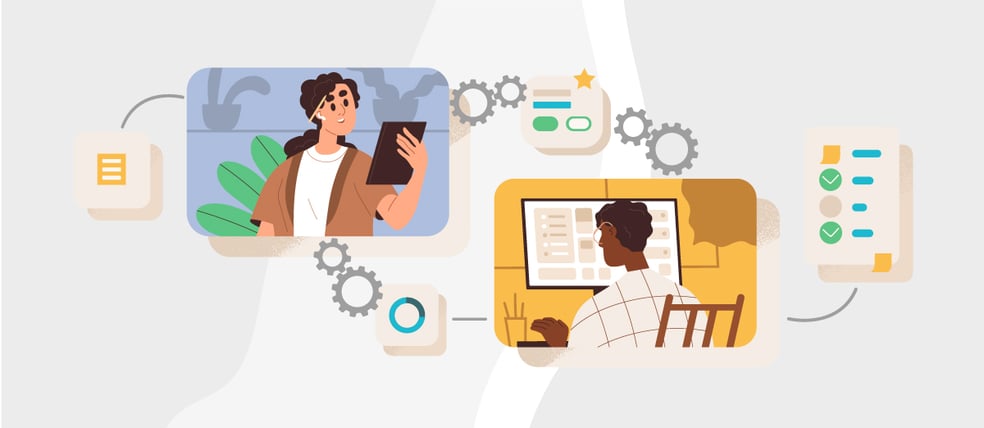 But what about the other 97%? They are on your website for a reason, they may still be undecided on whether your offering is right for them.

This is where it really gets interesting, as the biggest profit opportunities lay in the 97% of prospects who are not yet in 'buy now' mode. They are the biggest market, and marketing to these prospects can lead to huge upscaling opportunities for any business. We just need to know how to treat them as they might be right on the edge of buying but just need a little more encouragement. We need to engage in lead nurturing to build a relationship with them and move them further along in their buying journey.

Lead nurturing, though extremely effective, does have its limitations. It can be tricky trying to put the right content in front of the right leads at the right time. It is also time-consuming to manually keep track of people's actions and your individual responses to them.

Here enters HubSpot workflows...

HubSpot workflows solve this problem by combining context with content, triggering emails and internal tasks based on a prospect's actions such as downloading an eBook, subscribing to your blog, or opening an email.

In this article, we will look at what workflows are, what makes HubSpot workflows special, and we will end by showing you how to create your own workflows in HubSpot.
What is a workflow?
"Workflow" is a term that refers to an automated process where tasks, information, and emails are triggered based on a set of predefined rules.  Once set up, predetermined workflows will automate the process of following up leads, perform certain tasks for you and help reduce user errors when sending emails. Workflows have the advantage of helping businesses scale their productivity and reduce their reaction time through automation, thereby shortening the sales cycle than any manual output.
What is HubSpot workflows?
HubSpot Workflows is a powerful tool that makes nurturing your leads, managing your sales pipeline, and marketing automation incredibly easy. They help you understand where your leads are in the decision-making process and what you need to do to make the sale.
What makes a HubSpot workflow so special?
HubSpot allows you to create smart workflows that run behind the scenes of your day-to-day marketing activities. The options are endless, but here are some basics you should know before you start creating your own workflows.
Enrolling leads can be manual or on an ongoing basis, which is helpful when you are nurturing new prospects. Instead of having to personally follow up with every individual who fills out a form, workflows do the heavy lifting by sending personalised emails with the right context and then continue to nurture prospects based on the actions they take e.g. Did they open the email, click any links, did the email bounce, etc?
Creating a workflow in HubSpot keeps all your marketing initiatives on one platform. You create the email in HubSpot, define your triggers, save it for automation, use a list you've created and track it all in one place. Instead of using a collection of different tools, HubSpot keeps your tasks in one place for easier tracking and analysis.
6 Steps for Building HubSpot Workflows
1. Choose whether you want to start from scratch or use a template
The first choice you will have to make is whether you would like to build your workflow from scratch or if you would like to use a workflow template to guide you along.

Starting from scratch
Should you choose to start from scratch, you will need to select your workflow object. This will determine the types of records that can be enrolled into your workflow.
You can select one of the following objects:
Contacts
Companies
Deals
Quotes
Tickets
Custom Objects
Conversations
Feedback submissions
Subscriptions Payments
In the right panel, you will need to select your workflow type:
Blank workflow: This starts you off with a blank workflow where you can add your own enrollment triggers, actions, and delays.
Scheduled workflow (Operations Hub Professional and Enterprise only):  This lets you set a schedule for your workflow to recur at regular, pre-determined intervals such as daily, weekly, monthly, or annually. After, add your own enrollment triggers, actions, and delays.
Specific date / contact date property (contact-based workflows only):  These start with a blank workflow and add actions that execute based on a specific date or dates set on a specific property on enrolled records.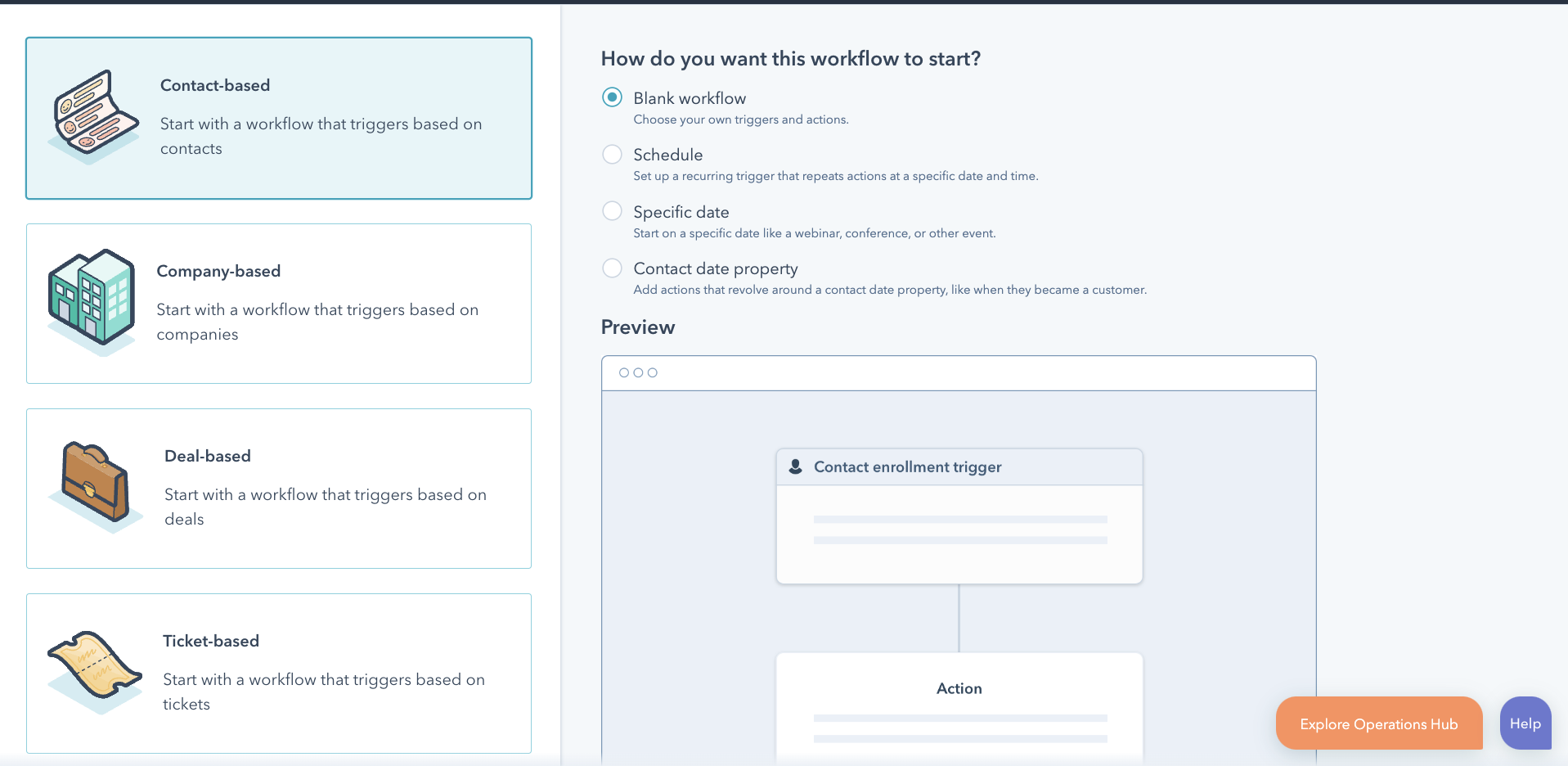 Using a template
This option allows you to choose a workflow template that is aligned with your goals. You can browse through the templates to find the one that meets your needs.
Before selecting a template, you should review the following details:
Purpose: The purpose and goals of this workflow.
Included triggers and actions:  The enrollment triggers and workflow actions that are included in the specific template.
What you'll need to prepare: Any assets that you'll need to prepare to populate the placeholder actions, such as marketing emails or forms.


Once you've selected your template, you can then start editing, adding and removing actions in the editor.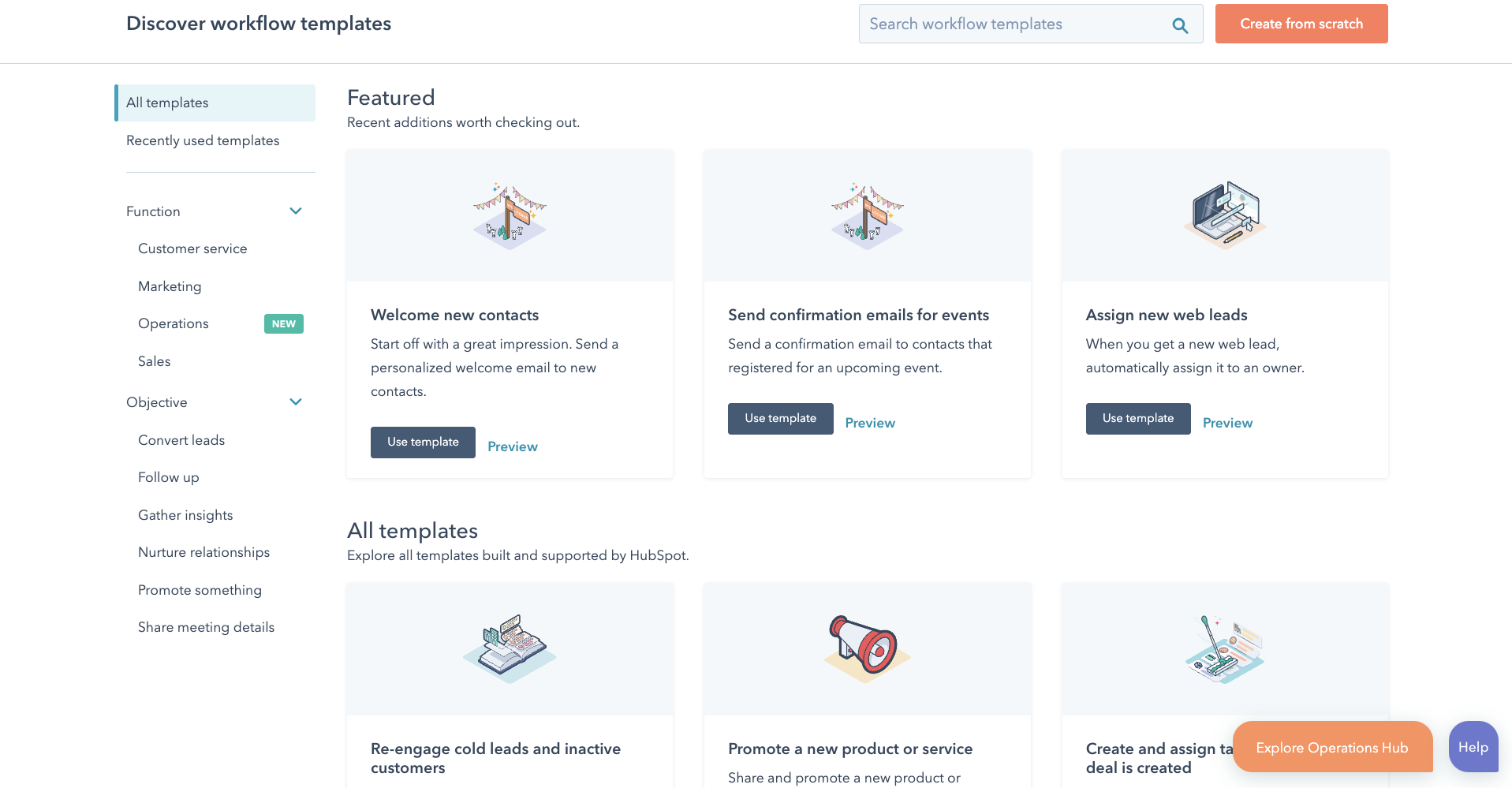 2. Set enrollment triggers
Enrollment triggers are a set of criteria that automatically implements a contact/record into the list of receiving the output of the workflow. If you only want to enroll records manually, leave the enrollment trigger box blank. Examples of enrollment triggers may include but are not limited to the following:


When a contact downloads a form
When a deal gets moved to a new stage
When a ticket gets closed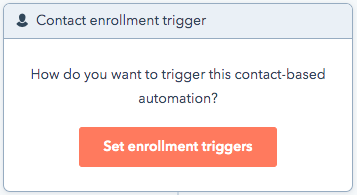 3. Add actions
Once you have your workflow type selected, your enrollment triggers set, and your goal list added (when applicable), you can begin adding actions to your workflow.

Actions are individual functions that execute as part of a workflow, such as sending an email, adding a delay between actions, or setting a contact property value. There are many types of actions that you can add to your workflow.

Here's a quick breakdown of the main ones:

Branches: Branching logic means that you can have your contacts follow one path or another based on an action in your workflow. For example, if you send someone an email, you can have that contact receive different content depending on which option they click, A or B.

Delays:  Delays are essential to use to prevent the workflow from running and executing each action - potentially sending multiple emails directly after one another. Use delays to ensure your content is delivered at a meaningful pace and reaches your prospect at the right time.

After adding an action, you can clone or move it to streamline the workflow-building process.

Please note: The actions available to you depend on your subscription. Locked actions require an account upgrade to use.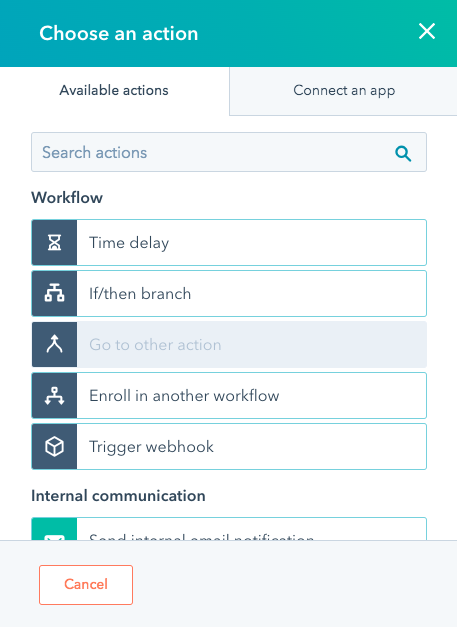 4. Manage your settings
When planning a HubSpot workflow, you may determine that your workflow needs to be more specific, in terms of its logic and what it does and does not allow. Workflow settings can help you control your workflow's behaviour.

Some important questions to ask yourself before activating your workflow include:


Should contacts be allowed to go through the workflow more than once?
Should the workflow steps execute only on business days or within a certain time range?
When a contact is enrolled in this workflow, should they be removed from any other workflows?
Are there any contacts that you want to prevent from being enrolled in this workflow?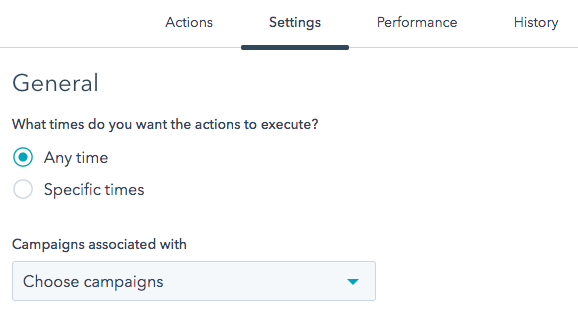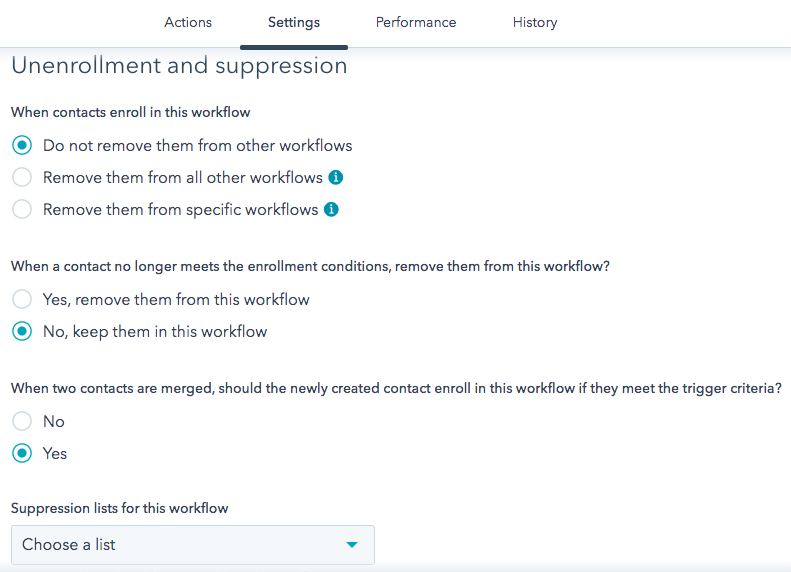 5. Use HubSpot's testing tools
Before activating your workflow, you may want to test it to view the sequence of events in action. When you are testing a workflow, it replicates the workflow in test mode to provide you the visibility into how it functions. The test will provide insights into any areas where you may have missed a step or identify areas where the workflow sequence needs altering in any way.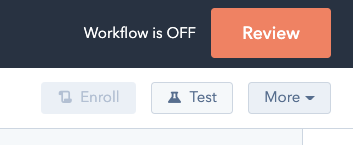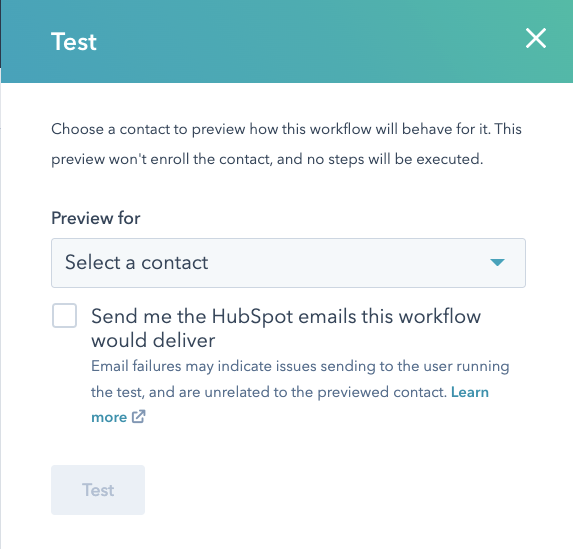 6. Evaluate your results
Once your workflows are up and running, you should test them against the following:

Goal Lists:  A unique advantage of HubSpot's Workflows tool is its ability to track your workflow's performance against a pre-selected goal. Setting a goal list will be key to many of your workflows as you'll be able to see at a quick glance how the workflow measures up. After your workflow has been active for some time, you will want to assess its effectiveness, identify areas of improvement and amend it accordingly.

Actions:  Each step will reveal a little bit more about the engagement of an action, so you can see if contacts in your workflow are opening/clicking on emails, are in a delay, or have met the workflow's goal criteria.

Performance:

  In your left-hand navigation, you'll find Performance. This screen displays your contact performance as well as your email performance per individual workflow. First of all, you'll see a quick overview of your workflow performance in terms of its conversion rate. Below that, you'll see the section 'Performance Trends' which shows a visual representation of how many contacts enrolled in your workflow, completed your workflow, were lost, and/or met the goal per any given time period. You can select the date filter at the top-right of this section to see a specific period of time or change that to a custom date range so you can get a better idea of how the workflow has performed over an extended period.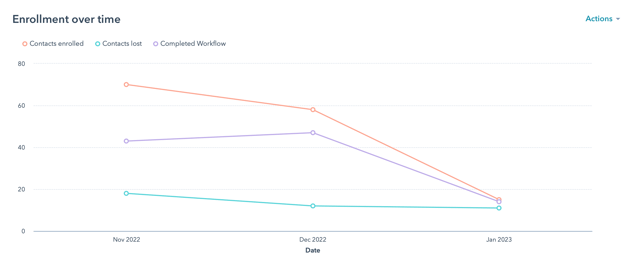 That is HubSpot workflows, in a nutshell. Still feeling a little overwhelmed? Looking for help with setting up these workflows in HubSpot? Let's chat.