As a business owner or executive, you're always looking for ways to improve your bottom line whether it is through the talent you hire, the technology you use or the strategy you deploy.
It is crucial to have the right people in the right seats and to ensure that they can deploy your business strategy. The choice of technology is often a sticking point as the choices are endless. That's where HubSpot benefits businesses. HubSpot offers an all-in-one CRM platform that can help adopters improve their sales, marketing, and customer service efforts.
With over 177,000 customers in over 120 countries, HubSpot has become a popular choice for businesses of all sizes. In this blog post, we'll take a closer look at the 8 benefits of HubSpot for your business and how they can help you grow and scale. Whether you're a small startup or a large enterprise, HubSpot has something to offer... Let's dive in!



1. Streamline customer interactions and personalisation with a centralised customer database.
HubSpot provides a centralised customer database that allows businesses to store all their customer data in a single place, which ensures that everyone in the organisation is working with the most accurate and up-to-date information.
This is particularly beneficial when it comes to customer interactions and personalisation. With a complete view of the customer, your business will have a better understanding of their needs and preferences and be able to tailor its interactions accordingly. This can lead to a more personalised and meaningful customer experience, which in turn will increase customer loyalty and satisfaction.
A centralised database will also make it easier to track customer interactions across different channels, such as email, social media, and website visits. This means that you and your business will be able to identify patterns and trends in customer behaviour and use this information to improve your marketing and sales strategies.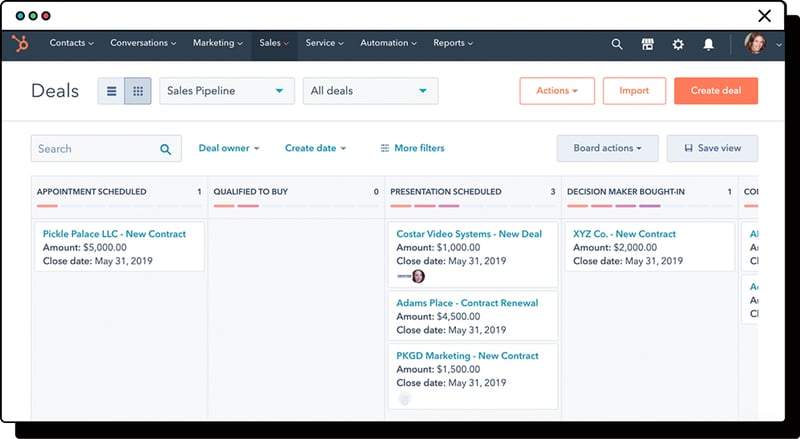 2. Save time and increase efficiency with marketing automation
The second benefit of HubSpot is that it allows your business to save time and increase efficiency through its marketing automation tools. By automating repetitive and time-consuming tasks, such as sending out mass emails or posting to social media, you're able to move prospects through the buying journey by sending them the right messages at the right time. You'll also free up valuable resources so they can redirect focus to high-level strategies that drive business growth.
Another key advantage of using HubSpot's marketing automation tools is that you'll give your business the ability to create targeted and personalised campaigns that are tailored to your specific audience. By using data-driven insights and analytics, you'll also gain a deeper understanding of your customers' behaviours and preferences and create campaigns that are more likely to resonate with them.
3. Scale sales and reduce workload with sales automation
HubSpot can have a significant impact on your business bottom line by increasing sales and reducing workload through the platform's sales automation tools. By automating the sales process, you'll be able to streamline your operations and ensure that your sales team is working more efficiently.
One of the key features of HubSpot's sales automation tools is lead management, which allows businesses to track and manage their leads effectively, thus enabling them to prioritise their efforts on the most promising prospects. With the lead management tool, you'll easily segment your leads based on criteria such as demographics, behaviour, and interests, making it easier to tailor your messaging and outreach efforts.
Another essential tool provided by HubSpot's sales automation is deal tracking. This feature gives you the ability to keep track of deals in real time - providing you with valuable insights into your sales pipeline and forecasting. With this feature, you'll identify potential roadblocks in your sales process and take corrective action before they become significant issues.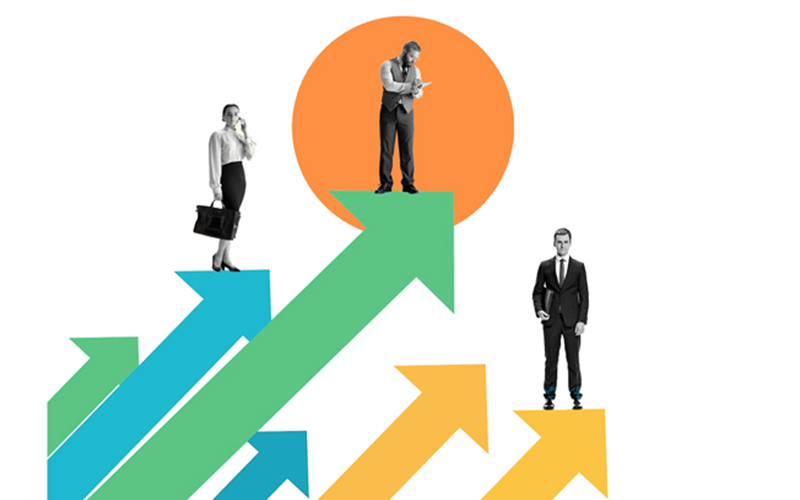 4. Make informed decisions with HubSpot's analytics and reporting
HubSpot's analytics and reporting tools empower your business to make data-driven decisions by providing valuable insights into all aspects of your marketing and sales efforts. By tracking website traffic, lead generation, and sales performance, you'll be able to identify which areas of your marketing are performing well and where they might need to improve. This data can be used to optimise your marketing campaigns, target specific customer segments, and allocate resources more effectively.
The ability to create custom reports and dashboards also enables the analytics and reporting to be tailored to your unique business needs. For example, you'll be able to create reports that track specific metrics such as website traffic, lead quality, or sales performance. This flexibility allows you and your businesses to stay focused on the metrics that matter most and to make informed decisions accordingly.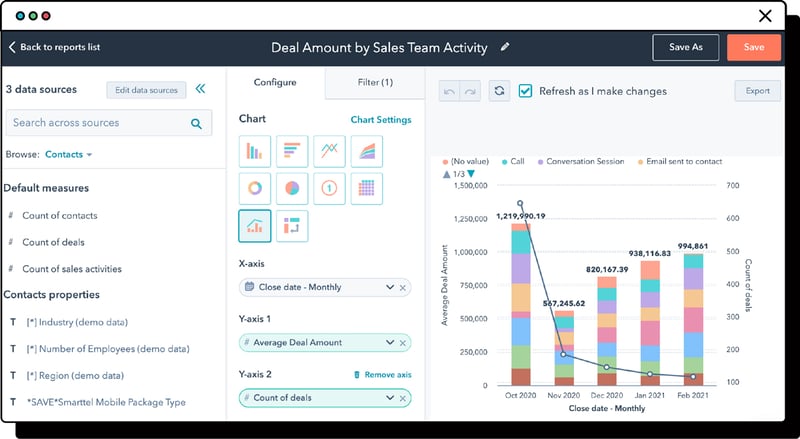 5. Enhance your online presence and user experience with HubSpot's content management system
HubSpot makes website edits accessible for everyone. Implement changes using the user-friendly CMS, without needing to hire employees with agency, web design or development backgrounds. Maintain your digital presence by creating new, or editing existing webpages with ease, adding modules to your layout or building in content effortlessly.
One of the primary advantages of using HubSpot's CMS is that it has a wide range of templates, themes and modules that give you the ability to customise your website to fit the unique needs and brand identity of your business without needing technical expertise or web development knowledge.
HubSpot's websites are also built to be SEO-friendly, meaning they are designed to ensure that search engines can crawl and index the site's content easily. This feature helps improve search rankings and attracts more organic traffic, resulting in more prospects discovering your website.
Another key feature of HubSpot's CMS tools is the integration with its CRM system. This integration gives you a complete view of your customer's journey, from the moment they first interact with the website to becoming a loyal customer. Armed with this information, you'll be able to personalise the website's content and messaging based on visitor interests and behaviour, creating a more tailored and engaging user experience.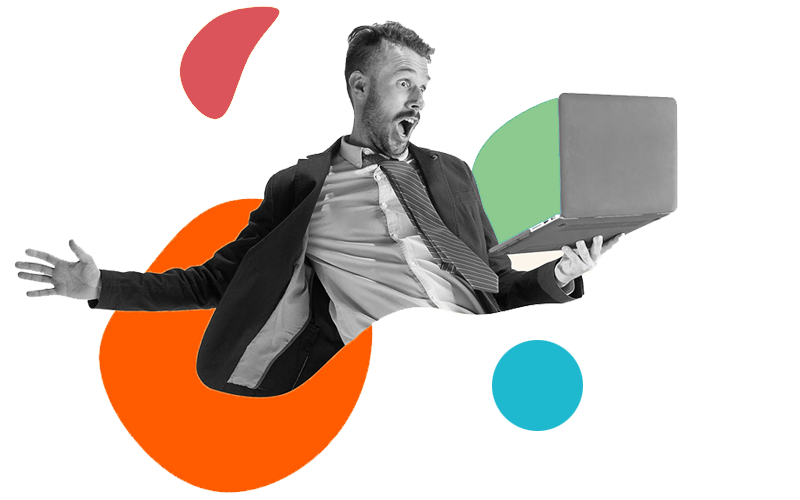 6. Integrate business-critical software for a streamlined tech stack
Integrations are a crucial aspect of modern business operations, allowing organisations to connect multiple tools, applications and platforms for a seamless workflow. HubSpot offers over 1,000 integrations with third-party apps, tools and platforms.
With HubSpot's integrations, you can easily connect your favourite software to streamline your business processes and improve efficiency. The integrations are designed to be user-friendly, with pre-built connectors and APIs that allow for quick and easy setup.
HubSpot's integrations also enable your business to connect with customers on the channels they prefer. Whether it's social media, email, instant messaging, live chat, or phone, you can use HubSpot to engage with your customers on their favourite channels, making communication more efficient and effective.

7. Software that scales with your business
HubSpot's scalability will be one of the most significant benefits for your business, as it enables you to grow and expand your business without worrying about outgrowing its marketing and sales infrastructure.
As your business grows, it'll need a marketing and sales platform that can keep up with its evolving needs. HubSpot is designed to be flexible and agile, and will quickly adapt to any direction you may decide to take your business as you respond to customer demand and changes in the marketplace.
HubSpot's platform can easily accommodate an increasing volume of traffic, leads, and customer interactions, ensuring that your business can scale its marketing, sales, and operational activities without technical limitations. This means that you can focus on growing your customer base and revenue, rather than worrying about the infrastructure's capacity.

8. Optimise, streamline and grow your business with an all-in-one solution
Last, but not least, the platform provides your business with a comprehensive set of tools and features to manage your sales, marketing, customer service and operations all on one platform.
HubSpot also offers different tiers to match any of your unique business requirements, whether you are a smaller startup looking for basic features or a larger enterprise with more advanced requirements, there is a HubSpot package for you.
With HubSpot's all-in-one solution, your business will no longer need to use multiple software platforms to manage various aspects of your business; eliminating the need to switch between platforms or using multiple logins and passwords, saving time, and simplifying processes.
The platform also allows for unlimited users, ensuring that everyone in your business can have access to the tools and features they need to perform their tasks efficiently.
If you are interested in learning more about how HubSpot benefits businesses worldwide, and how that might directly correlate with yours, book a demo with us today!
Migrating to HubSpot
When first migrating to any CRM, you'll need an expert in the field to make it a seamless changeover. We have been an Elite HubSpot Partner since 2021, offering a range of products and services to suit small, medium and large-scale businesses.
If you're looking for support with your HubSpot adoption, we're more than happy to be on hand to show you around the platform or offer some technical industry expertise.
Further Reading:
The Secret to Managing HubSpot