What Is the HubSpot CMS?
HubSpot recently launched the CMS (Content Management System) Hub. While the CMS has been a standalone product for a while now, packaging it as a Hub takes the product to the next level. The HubSpot CMS now comes equipped with a slew of tools that make your website easier to manage for both marketers and developers.
The Hub includes all the tools and features you would typically need a range of plugins or integrations to deliver. Security features, automation tools, SEO optimisation suggestions and even a customer relationship management (CRM) system comes built into the CMS.
The CMS Hub helps companies of all sizes put their website back in the hands of marketers, with no clunky systems that need extensive maintenance. The time saved from system management can now be spent on using it to create a better customer experience.
CMS Hub comes in a Professional or Enterprise plan, and choosing which plan to go with will depend on your company size and goals.
The most talked-about new feature is Themes. Themes give marketers the power to easily update the look and feel of the entire website, without learning CSS and having to update stylesheets. It also adds a drag-and-drop functionality which offers the ability to add, edit or remove modules or entire sections from any page, all without coding a new template.
The CMS includes SEO tools, lead capture forms, live chat functionality and the HubSpot CRM (Customer Relationship Management). With a connected CRM, your lead capture and dynamic content strategies are easy and deliver a consistent customer experience. It also works seamlessly with the HubSpot Marketing-, Sales- and Service Hubs.
Developers are equally excited to leverage the local development workflows that allow them to use the tools and technologies they prefer. With the Enterprise plan, you can create powerful web app experiences, with serverless functions and membership management options. You can also gain more governance oversight, with activity logging and fault alerts.
Now that you understand some of the features of the CMS Hub, let's explore the benefits of moving your website to HubSpot.
The Benefits of the HubSpot CMS Hub
Single-point-of-truth
HubSpot offers a single-point-of-truth view of your customers. Your website is hosted in the same system as your contact database, and potentially your marketing, sales and service tools. All activity and interactions someone has with your business will be recorded in the same place, providing greater insights to you and a better experience for your customers.
HubSpot's sophistication and security
As a business, HubSpot has shown itself to be versatile and sophisticated. With a dedicated team working on it, the CMS is set to grow in sophistication and complexity. Their security team will always (24/7!) be hard-at-work to protect your site and actively monitors any threats with both automated and manual checks. Your site will be automatically provisioned with a standard SSL certificate, which helps to create trust and increase your Google rank.
HubSpot promises a 99.99% up-time and ensures your site remains active through the global Content Delivery Network (CDN). It's built to handle high volumes of traffic, and the Enterprise plan comes with a custom CDN configuration.
App Marketplace
While the CMS Hub removes the need for clunky systems with multiple plugins and integrations to perform basic functions, that doesn't mean you can't integrate it! With an open API and an App Marketplace to choose from existing integrations, the HubSpot CMS enables you to deliver the best customer experience.
By using the HubSpot API, developers can provide seamless data relationships between your CRM and external application. The well-documented platform makes integrating with social media channels, webinar tools or any other platform effortless. It also hosts a variety of API tools like endpoint monitoring and built-in OAuth services.
Asset Marketplace
Aside from a comprehensive App Marketplace, HubSpot also has an Asset Marketplace, where you can browse and purchase themes, templates, custom modules and widgets. The Marketplace has several free assets you can add to your portal and more sophisticated options that are charged additionally. The Marketplace offers easy payment, and most assets come with extensive product documentation, to help you use and implement them.
Content Management
With themes and the drag-and-drop editor, you can easily create and customise your website pages, landing pages and blog posts. If you're' even vaguely digital-savvy, you'll find the WYSIWYG (what-you-see-is-what-you-get) text editors easy to use. With a combination of easy to style pages, worry-free module editing and no-surprises content publishing, you can create, publish and edit your website without having to get a developer involved.
Responsive design
Any website pages you build in HubSpot are responsive by default and comes with device-specific preview options, meaning your content will scale across mobile, tablet and desktop use. There's no need to get a developer involved to make sure your content looks great on all devices.
HubSpot Academy
HubSpot is a comprehensive platform with plenty of tools to learn. It's a good thing that HubSpot doesn't leave you to your own devices! The tutorials and online training in the HubSpot Academy will provide you with everything you need to gain a deep theoretical understanding of all the methodologies and tools.
The technical bits
If you're looking for a bit more technical functionality to deliver web apps or online tools, then HubSpot CMS is up for the challenge. It has serverless functions, allowing you to add interactive elements like event registration, guest books and calculators without the need to manage and configure an external server and deal with the SSL certificate or the data transfer processes.
It gives your web developers a local website development environment and lets them use the tools they are comfortable with, like GitHub. Using Dynamic content with HubDB, you can build data tables that can be updated to push global site updates for content that appears on multiple pages. This is an excellent functionality if your website features calendars, product catalogues and pricing data.
The CMS Hub also features activity logging, site performance monitoring and reverse proxy support.
Lastly, it features code alerts which enables your developers to easily identify bugs in the infrastructure or design.
Of course, marketers are going to love some of these features and your IT teams others! But one thing is for sure: all of them will indeed love it. This blog details more of the benefits for each team.
Why we love the HubSpot CMS
You can probably tell that we are big fans of the HubSpot CMS. Struto is a HubSpot Diamond Partner, which means we are very experienced in implementing and managing the HubSpot stack. We have used the HubSpot CMS since it used to be a Content Optimisation System (COS).
Why do we love the HubSpot CMS Hub so much? That's an easy question with a simple answer. It's optimised for both marketers and developers and is only CMS that has a CRM combined right within the tool.
Our marketers and our clients find the CMS easy to use to create and edit content. Our developers can build complex applications with the CMS Hub. Customers and prospects get a personalised, unique, and secure browsing experience.
Let's dive into this a little deeper.
Up until quite recently, most companies were hamstrung by their websites. It was difficult to edit them, and if you wanted to change anything (even slight content changes), you either needed to outsource to an agency, hire a website designer to add to your team or go through the long and arduous process of asking your IT team for help. The expense and struggle of implementing these updates caused a lot of websites to lapse into obscurity: for both search engines and prospects.
But then the HubSpot COS arrived in the form of a user-friendly, cloud-based solution, and evolved into what we know today as the CMS Hub. It enables the creation and editing of websites without the expense of hiring an experienced developer and without the hassle of working through your IT team. It turned websites into an asset and one that positively influences the customer experience.
We think it should be the go-to CMS of choice for SMBs, and we'll show you why with a comparison against some of the most popular CMSs available today.
HubSpot CMS compared to other CMS's
Firstly, let's take a look at this grid from G2 Crowd of the reviews of Web Content Management Systems from 2020.
It's a pretty compelling picture, right? HubSpot beats the pants off all other CMS solutions. Get the full report and all the reviews, here.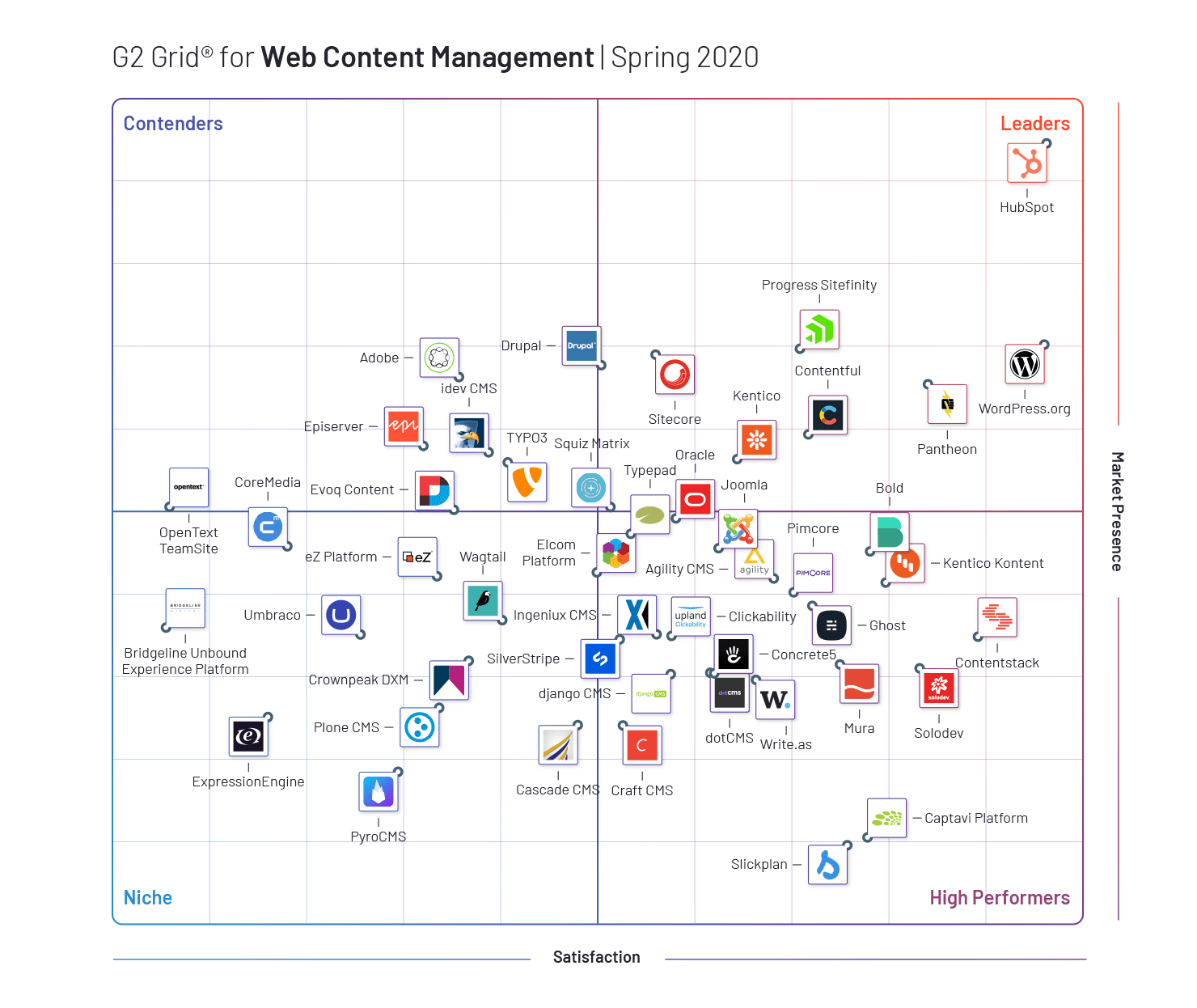 But when you're choosing a CMS, you can't base your decision solely on what other people think. You need to look at it from a logical perspective and weigh up the elements that are important to your business. Now, there are countless articles comparing HubSpot to Wordpress, Drupal or Sitecore (to name but a few!), which you can explore.
But in our experience, it comes down to this:
1. Cost: Wordpress is free, but open-source and requires a lot of plugins to perform essential functions all which result in a lot of management. HubSpot's security and maintenance is taken care of by the team at HubSpot and is already included in your subscription fee. HubSpot is, however, significantly less costly than Sitecore, which not only comes at a high up-front cost but also bills additionally for the maintenance.
2. Ease-of-use: Your CMS should help you create AND optimise your website. Sites built on Sitecore, Drupal or even Wordpress have all been optimised solely for the developer and is challenging to optimise and maintain. Other CMS's like Wix has been optimised for the marketer, and don't have the power to let developers build a remarkable experience. HubSpot has been optimised for both: it's easy to create and edit great websites.
3. On-premise vs Cloud-based: most CMS's are cloud-based, and so is HubSpot, which is great for companies who don't want the stress of server management. Sitecore is one of the on-premise options for global Enterprise who want to self-manage (but see the point above!)
4. Multi-language websites: Speaking of global, if your company is offices in multiple countries, you'll likely need multi-language functions. CMS Hub is built to manage complex global websites and help take the pain out of managing a localised site. From translation integrations to automatic insertion and management of SEO tags, like HREFLANG, it's all managed for you within HubSpot.
It's a no-brainer, right? The CMS Hub plan you choose does make a big difference in how powerful your website is, though. Let's take a look at some of the differences between the Pro and Enterprise tiers and which one you should go for.
Comparing the CMS Hub plans
CMS Hub Professional is an all-in-one system that creates a wonderful customer experience, built for companies who are looking to grow but feel that their CMS (content management system) may be holding them back due to its constant need to be maintained and kept up to date.
In CMS Hub Professional, HubSpot has evolved their current CMS by adding new features such as themes, drag and drop editing, dynamic content, SEO Tools and forms.
Hub Enterprise is the next level up from Professional. It comes with everything found in CMS Hub Professional and more features like serverless functions, memberships, activity logs and brand domains. CMS Hub Enterprise gives scaling organisations the opportunity to build compelling and dynamic marketing experiences.
We explore the features that both include in detail above, so let's rather look at what makes Enterprise unique:
Memberships
With the growing demand for unique and memorable experiences, personalisation in 2020 goes beyond just changing the first name field of the website visitor, in some cases, it may mean serving up entire web pages with content tailored specifically for them. This means providing site visitors with tailored recommendations based on their past interactions with your company or providing your best customers access to premium content.
This is all possible with memberships in CMS Hub Enterprise. Using memberships, you can create content that's tailored to each site visitor.
Serverless functions
Have you ever needed to solve real-time issues on a website that would influence whether or not you go ahead with the purchase?
Decisions such as finding out the instalment payback period based on your unique inputs or maybe you're completing an event registration and need to to see details about the event as you're signing up?
The web apps that provide these delightful experiences, usually rely on server-side code and managing servers is one of the biggest pain points of running a website.
With serverless functions in CMS Hub Enterprise, you can build powerful web apps that extend the functionality of your website. And your dev team never has to worry about managing servers or how a spike in traffic might impact your performance.
Activity logs
Keeping track of website changes and updates is straightforward when the business is small, but if the business grows, and more people are added to the team, this becomes nearly impossible.
Activity logs and user permissions give you more control over who internally has access to your content, and the ability to see exactly what changes your team is making to your site.
Brand domains
As your business scales, you may reach a situation where it makes sense to have multiple websites. Maybe you expand into two business lines, or you need to create a microsite for a specific subsection of your business.
CMS Hub Enterprise comes with two brand domains included, and you're able to purchase more as needed, and as you grow your business, you'll be able to build out and report on two or more separate websites within the same CMS instead of having to juggle multiple systems to meet the needs of your website.
Keep in mind, HubSpot's CMS Hub was designed to work in tandem with the other Hubs, namely Marketing, Sales and Service. If you take the Growth Suite (all the Hubs in the same tier), you do get a discount, and the plans work well for companies in specific tiers (i.e. a certain size and sophistication in digital use).
But we think you shouldn't just take Pro because you're taking the other Hubs at the Pro level, and the same for Enterprise. We'd encourage you to evaluate your goals against the functionalities of each and choose the solution that's right for your business.
If you've done that, you're ready to move onto the next question.
Should I migrate or redesign my website?
We can't answer this dilemma for you, but we can tell you what to consider.
Migrate your site over if:
your website is modern in look and feel
if your website generates the number of leads you want
if you are moving to HubSpot primarily because of security and management concerns
if you're moving to HubSpot because of the multi-language offering
Redesign your website if:
It's outdated and clunky
Your website performs poorly
The content on your website is difficult to edit or maintain
You want to incorporate a membership section or dynamic content