What Is HubSpot?
Good question. HubSpot is an all-in-one customer-facing software that is built to support an inbound approach to marketing, sales, customer service and website.

That means it's focused on enabling you to attract visitors, engage prospects, and delight customers.

HubSpot helps you understand your buyers, and then build relationships with them. It's a business dating platform. Why? Because traditional marketing isn't working as it once was. Buyers are no longer looking for flash and dazzle tactics… They want to be personally approached, and to be properly educated. HubSpot's software was built with this in mind.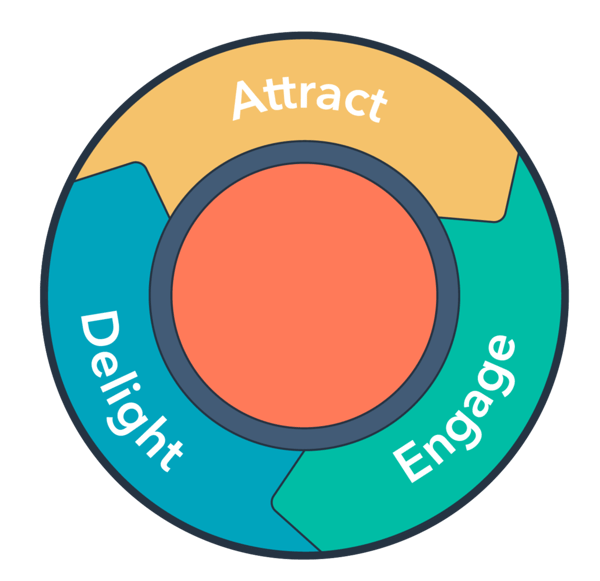 Inbound Software Solution
HubSpot is the one-stop solution for all front-of-business digital tools. This covers conversations, SEO, social media, sales enablement, marketing automation, email marketing, reporting, lead tracking, customer surveys, ticketing, websites and apps and more.
That's the beauty of the software. It encompasses so many different tools within a single platform and multiple platforms within a single system. Everything is centralised.
Managing multiple software tools means collating and comparing data between different systems. It's a hack and it isn't necessary anymore. Wasting time learning multiple interfaces, jumping between the different software, and trying to educate your team on what to do where… there's no need for it. HubSpot centralises everything. All your information is available for all of your teams in a single place.
This helps begin to close the historical gap felt between sales and marketing and service teams. Because it's all in one portal, creating feedback and encouraging collaboration has never been easier. All customer-facing teams can work together toward the same goals within their sales, marketing and service dashboards within HubSpot.
Shared goals! That's a dream come true for business owners. It means closed-loop reporting based on mutually agreed goals and KPIs between teams. Instead of breeding bad relations and confused results, HubSpot's software helps sales, marketing and service teams become the solution to bigger bottom-lines and improving performance across the board.
HubSpot Hubs
HubSpot CRM: It's free!
The HubSpot CRM itself, which includes the sales dashboard, is free to use. You get basic sales features with the CRM, like deal tracking, pipeline management, company insights and a reporting dashboard. Your sales team will get access to live chat functionality, prospect tracking, email tracking and notifications and a meeting scheduling tool. You also get access to the Marketing and Service Free tools.
With these tools you're able to efficiently manage your relationships. Check out all the features that are free here.
Some might say that the CRM is a nice way to get a taste of HubSpot's usability and interface, but it's a darn good CRM in itself. While HubSpot makes the most sense when using all of its features together, the CRM is quite an elegant system to use as a standalone product.
Marketing Hub
The marketing platform is where you can attract and convert leads for your business.
As they say it, it's the ideal platform to "help your team grow traffic, convert leads, and track your entire funnel in one place".
The pricing plans start with a basic free option, but any small business who is serious about using HubSpot will probably want to start with their Starter tier. They also have Pro or Enterprise plans. Depending on the plan you choose, HubSpot offers an array of marketing tools and function.
Free
Starter -

£42

/mo

Professional -

£655

/mo

Enterprise -

£2624

/mo

This tier is right for you if you are completely new to Inbound Marketing. You can use the portal to get familiar with HubSpot and learn about Inbound Marketing through the HubSpot Academy.

This tier doesn't require extensive setup so you can get going pretty quickly!

Includes 1 000 contacts

Includes 1 000 contacts

Includes 10 000 contacts

If you're familiar with HubSpot and Inbound Marketing, but you're a small company with a limited marketing budget, then Starter is for you.

You get more in-depth lead insights than with Starter, and this tier comes with SEO, social and email tools. It's perfect for a company expanding their reach - and includes the ability to report on all your marketing activities and impact.

At Professional is where the true power of HubSpot comes into play. The Pro tier includes marketing automation and multivariate testing, so its perfect for any company getting serious with their inbound marketing.

You can automate customer and lead communication, manage your database effortlessly and implement internal notifications.

Multivariate testing is similar to A/B testing, but 10x better. You can have 5 different versions and HubSpot reverts to the most successful one automatically.

The increase in included contacts means Enterprise is great for companies with large databases.

It includes predictive lead scoring tools and advanced reporting.

It's a great option for larger companies looking to easily manage their database.
Check out all the features of each Marketing Hub tier, here.
Sales Platform
The sales platform is where you can close deals, fast.
It has a suite of productivity tools that live in your inbox. You can send personalised prospecting emails automatically, see when leads open emails and attachments, create email templates and measure their performance, and schedule meetings easily.
As with the marketing platform, HubSpot's sales platform also offers a free plan to begin with, as well as a Starter package but its Pro and Enterprise plans are where the magic really happens.
Free
Starter -

£42

/mo

Professional -

£410

/mo

Enterprise -

£990

/mo

The free CRM is included here - it's ideal for startups or small businesses.

You also get access to some additional sales tools like Live Chat, email tracking, email templates, canned snippets and meeting scheduling tools.

If you've never used a CRM before, then the Free version is perfect to dip your toe in. It will rock your world.

Includes 2 paid users

Includes 5 paid users

Includes 10 paid users

If you have a small sales team and you want to become more efficient then Starter is for you.

The added value comes in with Sequences, where you can automate your one-on-one outreach. The increased number of items in each sales tool that you can create or use is also ideal for sales teams who need to do more with less.

Sales Pro includes workflows to help you manage your growing database. It includes Sales Quoting functionality, multiple currencies and 1:1 video creation.

It is ideal for sales teams of +- 5 whose goal is to grow. It offers the opportunity to handle larger pipelines and gives you the tools to manage each deal efficiently.

The Enterprise tier includes predictive lead scoring, SSO, sales playbooks integrated with the sales tools and automated call transcripts.

It's great for larger sales teams, and a sales leader who focuses on coaching their team. The functionalities in Enterprise allows you to add new members to your sales team effortlessly and will reduce onboarding time.
Check out all the features of Sales Hub here.
Service Platform
The Service Hub has everything you need to delight your customers. You can provide an exceptional service because your team has the tools to connect with your customers and determine and improve on your NPS, or Customer satisfaction.
Free
Starter -

£42

/mo

Professional -

£330

/mo

Enterprise -

£990

/mo

This is great for small businesses with limited budget, who are new to service software.

It includes a ticketing system which will introduce you to the way of effective customer support management. It also includes live chat and basic chatbots and a universal inbox.

Includes 2 paid users

Includes 5 paid users

Includes 10 paid users

If your company has recently established a Service team, then Starter is for you. It allows for company branding, and conversation routing according to rules you've set up.

This is ideal for small teams where each member has a defined role or responsibility.

Professional is for medium sized teams of about 5.

It includes workflows to manage your database and to automate customer service communication. You also have a Knowledge Base and Survey functionality. This, along with 1:1 video, will help you create an experience to delight your customers.

Enterprise is great if you're looking to include BI in your service offering.

It includes automated call transcripts to coach your team, and playbooks that is integrated with HubSpot tools.

You'll also get webhooks that allow for Integration with other tools like your BI software or ERP.
All the Service Hub features can be found here.
CMS Hub
Newly launched, the CMS Hub is everything marketers and developers dream of. Simple and easy enough for your marketing team to use and powerful enough to give your developers and technical team something to sink their teeth into. There is no Free or Starter packages here, but the Pro package is affordable enough, considering HubSpot takes care of all the extra's like hosting and security. The Enterprise package is for if you want to build web apps and truly astounding dev work.
Professional -

£245

/mo

Enterprise -

£745

/mo

Pro is built for companies who are looking to grow but feel that their CMS (content management system) may be holding them back due to its constant need to be maintained and kept up to date.

In CMS Hub Professional, HubSpot has evolved their current CMS by adding new features such as themes, drag and drop editing, dynamic content, SEO Tools and forms.

CMS Hub Enterprise is the next level up from CMS Hub Professional. It comes with everything found in CMS Hub Professional and more features like serverless functions, memberships, activity logs and brand domains.

Enterprise gives scaling organisations the opportunity to build compelling and dynamic marketing experiences.
Learn more about the different features of CMS Hub here.
Growth Suite
HubSpot offers a Growth Suite that includes all the Hubs at the same tier. The Growth Suite comes with a nice 25% discount off standalone Hubs. The Growth Suite doesn't currently include the CMS Hub, but we're sure it will in the future. We highly recommend the Growth Suite. Using each Hub on it's own is powerful, but using all the tools in conjunction, will take your sales, marketing and service to the next level.
Selecting The HubSpot Package For You
What's right for you? Thankfully, it's quite easy to balance what your needs are with what each package offers.
Choosing Your Hubs and tiers
It's quite simple really. You don't need to get down and dirty with the details too much when deciding on which platforms are right for your business.
The specific hub and tier you take, is where the dirty details come into play. The tier you choose should match the requirements of your business (traffic size, leads generated, your team size, your required features and functions, etc.).
Of course, budget always comes into it. But beyond budget, choosing your package depends on where you are with your inbound journey, how advanced your skillset is and whether you have the traffic running through your website that would support the need for advanced features. For instance, you can't action Inbound Marketing with the Basic marketing package, as there are no lead nurturing tools. That's why we recommend any business signing onto HubSpot starting at least with a Pro marketing package. Any less doesn't make much sense to you as a business. But remember, there's no point in going for the highest package (Enterprise), unless you have the data and audience to support it. For instance, you can't use A/B testing in the Enterprise package, unless you have a significant amount of traffic. But, if you have decent web traffic and want A/B testing, then you'll need the Enterprise package.
You'll need to balance the budget with your business's requirements and current stage in the inbound journey, but know that you shouldn't skimp on the foundation of your growth strategy.
Which Add-on Is Relevant For Me?
It's just like asking for condiments in a restaurant. The food can be so good, but it would be even better with a touch of spice. Add-ons give the HubSpot platform even more functionality.
HubSpot currently offers seven add-ons to the HubSpot platforms. We think these are the ones to be aware of:
Reporting - $200/m

Increase your Custom Dashboards limit to 200 and create up to 2000 additional Custom reports (200 cross-object reports per account) for your team based on any metric in Marketing, Sales, Service or CMS Hub or HubSpot CRM.

Ads - $100/m

Increase your spending limit by $50 000, create 50 additional audiences and get hourly audience syncing.

Custom SSL - $100/m

Your Marketing Hub Professional or Enterprise Plan comes with a standard SSL certificate to encrypt and secure your website content. You can also purchase the premium SSL service if you need additional customisation.
The other Add-ons include increasing your API limit, purchasing your own dedicated IP, sending transactional emails and hosting content on additional brand (root) domains.
You can choose one, or all of HubSpot's add-ons to include in your front-of-business arsenal. Again, this should depend on your budget and your specific needs.
Required HubSpot Onboarding
If you take the Pro or Enterprise feature of any of the Hubs, HubSpot includes compulsory onboarding to be completed. The cost of the onboarding will depend on which Hub and tier and ranges from £500 for Service Pro to £6000 for Marketing Enterprise. There is also an Advanced option for Marketing (£8000) and Sales (£4000) Hub that will include technical and business strategy consulting.
This mandatory onboarding will be dropped if you're signing up to HubSpot via a partner, most of whom offer their own onboarding plans.
HubSpot is a powerful software, which gives you a lot of rope to work with - but also to hang yourself with. Be sure to set up your portal correctly at the start and learn the software yourself, and you'll be a-for-away.
We are HubSpot partners and can assist you through the process of buying HubSpot and with the onboarding, technical setup, training and strategy.
Why choose Struto to help you?
There's no short, one-sentence answer… instead, we can think of numerous reasons as to why you should:
We are a HubSpot Diamond certified agency partner.
Our team have helped more than 50 clients get more out of their software investment, using best practice methods based on years of experience.
We help our clients save time and money, which is otherwise wasted on a steep learning curve. Using HubSpot is only easy if you know what you're doing.
Software is one thing, strategy is another. We do both.
We can help you with the practicalities of the setup through legacy data migration and in getting more out of the platform across all aspects, from website to marketing automation, to using the CRM and Add-on tools.
We can help migrate your old sites onto HubSpot's CMS Hub. This includes old sites that are more complex or larger than what HubSpot would normally migrate as part of their on-boarding.
We aim to work with you, which means that we can help arrange payment terms which fit your business.
We can help you through the buying process and assess whether the software is right for your business, as well as hint as to which questions to ask before signing up.
Additional Resources